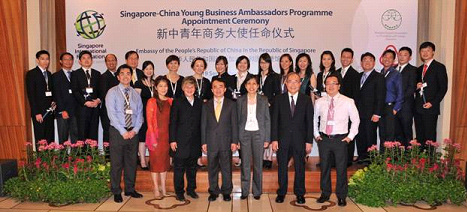 The appointment ceremony was attended by (first row, from left) SIF Governor David Chong, SIF Executive Director Jean Tan, SIF Governor Elim Chew, Chinese Embassy Counsellor Lin Xianjiang, SIF Chairman Euleen Goh, SIF Governors Cham Tao Soon and Lian Wee Cheow, (second row) the Singaporean and Chinese YBAs, representatives of participating corporations, and Singapore-Australia YBA programme 2002 alumnus Clinton Ang.
With their appointment, the 12 YBAs join a global network of 84 business professionals from over 50 companies in Shanghai, Melbourne, Sydney and Singapore who have embarked on this same journey since the YBA programme's inception in 2000.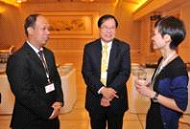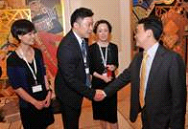 Some 50 guests were present at the appointment ceremony, including SATS Ltd President and CEO Tan Chuan Lye (left photo, centre), the Chinese Embassy's Counsellor Lin Xianjiang (centre photo, right), Singapore Technologies Engineering President and CEO Tan Pheng Hock (right photo, centre), and SIF Governor David Chong (right photo, right).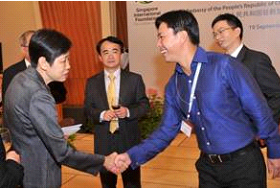 SIF Chairman Euleen Goh (left) warmly welcoming Hock Tong Bee Managing Director Clinton Ang (right) to the event. Mr Ang, an alumnus of the Singapore-Australia YBA programme 2002, was invited to speak about his experiences during his YBA stint and on the power of networks in today's world.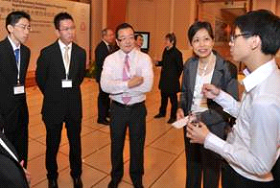 Mr Ang Kar Yong (right), Head of Outreach and Innovation at social enterprise Start Now, recounting his experiences during SIF's Young Social Entrepreneurs (YSE) programme this year. Start Now was one of four social enterprises which received seed funding from the YSE programme to further its plans to grow volunteerism advocacy in society.
A celebration of the continuing relationships between Singaporean and Chinese communities, the growth and success of the Singapore-China YBA programme is testament to the strong partnerships between SIF, the Shanghai People's Association for Friendship with Foreign Companies, Shanghai Municipal Bureau of Foreign Experts, participating corporations, the Chinese Embassy in Singapore and the Singapore Consul-General in Shanghai.
We value our partners and their keen support for this SIF programme, and for their help in bridging Singaporean and world communities for a better world.